Parts
Aluminum Door Parts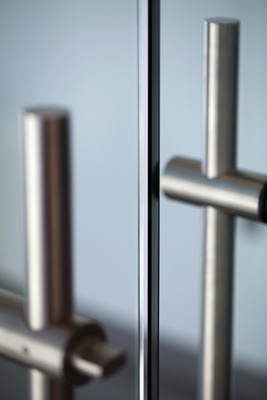 Pivots/Hinges:
Top Offset Pivot (Door and Frame Portions)
Bottom Offset Pivot (Door and Floor Portions)
Intermediate Offset Pivot (Door and Frame Portions)
Top Center Pivot for Double Acting Doors
Bottom Center Pivot for Double Acting Doors
Butt Hinges
Continuous Hinges- Concealed and Surface Applied
We carry Kawneer, U.S. Aluminum, Vistawall and Universal Pivots in Clear and Bronze Anodized Finish.
Locks and Latches:
Adams Rite MS 1850 Deadlock (Maximum Security)
Adams Rite MS 1850-050 Short Throw Deadlock
Adams Rite MS 1890 Deadlock/Latch Combination
Available Accessories- 4560 Lever or 4590 Latch Paddle
Also Available Cylinders, Cylinder Blanks and Thumb Turns in Clear and Bronze Finish (Cylinders are Available Keyed Alike)
Exit Devices:
In Stock Dor-O-Matic 1990 Crash Bar Rim Panic (Easy to Install) Available for Special Order
Panics and Removable Mullions from: Von Duprin, Dor-O-Matic and Falcon (Electrified Options Available)
Power Transfers, Electric Strikes, and Power Supplies from Von Duprin, Adams Rite and Securitron
Door Closers:
In Stock LCN XP4040 Surface Closers, Global TC4300 Surface Closers, Global TC205 Surface Closers and Overhead Concealed Closers from CRL (Heavy Duty, Medium Duty and Light Duty Available)
We have Replacements Closer Arms, Screws and Sex Bolts As Well.
Ask us about adding a Low Energy Handicapped Accessible Automatic Door Operators to your new or existing entry doors.
Thresholds:
A.D.A. Accessible, Step Up, Weather Stripped and Non-Slip Thresholds
Push/Pull Handles:
Replacement and New Pull Handles and Push Bars in a Variety of Styles, Shapes, and Finishes
Weather Seal:
Door Sweeps (Manufacturers' and Universal)
Weather Stripping (Frame Portion, Between Pairs of Doors, and Astragals)
Floor/Wall Stops plus Kick Down Door Stops
Plus we offer Advice and Know-How from the people that have been installing and servicing aluminum doors for over 50 years. Chances are if it goes on an aluminum door, we have it or can get it, we know what it does, we know where it goes, and we can explain it so you can get on with it. But if you don't feel up to the task we offer professional installation in a wide service area.